How does the Lifesaving Lottery work?
The Lifesaving Lottery is run by London's Air Ambulance Charity. It is a regular weekly draw operated every week. It costs just £1 per week for each entry into the draw and you could win a great prize of up to £1000!
After your payment to the Lifesaving Lottery, you will be entered in to the weekly draw for the chance to win:
If you win the £50 prize or one of the £10 prizes, we will transfer your winnings back into your bank account and let you know by email or letter.
If you win the £1000 prize, you will be contacted by telephone, email or letter. You will also be offered a visit to the London's Air Ambulance helipad (*Covid-19 restrictions dependent). To ensure we can contact you should you win, please keep your contact details up to date.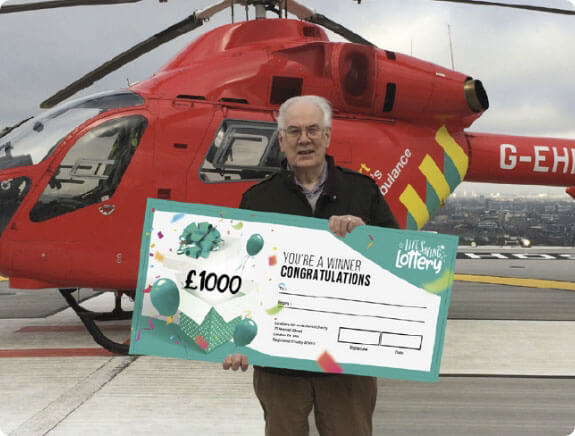 Our Lifesaving Lottery draw takes place every Friday
London's Air Ambulance Charity lotteries are fully licenced and regulated by the Gambling Commission and comply with all Gambling Commission Requirements. The UK Gambling Commission is the regulatory body for casinos, bingo clubs, gaming machines, and the larger society lotteries in Great Britain. We have to report on every draw to the Gambling Commission and receive regular audits and visits to make sure that our Lottery and Raffles are always fully compliant.
1 entry per week = £4.34 per month, 2 entries per week = £8.68 per month. The lottery is played weekly rather than monthly so the ask levels take into account the varying number of weekly draw days in each calendar month of the year.
Each week Lifesaving Lottery players have the chance to win an amazing cash prize:
1st prize = £1000
2nd prize = £50
Runners Up = 5 x £10
Click here for a list of weekly Lottery winners. Alternatively, you can contact us on this email address or 0203 023 3319, and ask us to check your lucky number(s) for you.
If you win an amount between £10 and £50, we will transfer your winnings back into the account you have provided details for and send you an email.
If you win the top prize of £1000, we will contact you via telephone before sending the winnings via bank transfer.
Please ensure contact details are kept up to date so that we can get in touch if you are one of our lucky Lifesaving Lottery winners.
Unfortunately, we can't claim Gift Aid on the contributions made. This is because the Lifesaving Lottery is a gambling product and you have a weekly chance to win as a result of your contribution i.e. it is not a direct donation.
We are committed to ensuring that we operate our lotteries and raffles in a socially responsible way. Below is some information in respect of problem gambling and how we can help in these circumstances.
Keeping your gambling under control
Remembering that you are taking part for fun and not as a means of investing your money

Setting strict limits on how much time and money you're going to spend, before playing

Only gambling with money that you can afford to lose

Not spending more money on gambling in the hope that you will win back any money that you've already lost

Keeping up other interests and hobbies and not letting gambling take over your life

Not gambling to escape from stress or boredom.
If you have a problem with gambling, you can contact BeGambleAware. Gamble Aware is a registered charity that provides confidential telephone support and counselling to anyone who is affected by gambling. You can visit their website or contact them on 0808 8020 133.
London's Air Ambulance Charity operates a self-exclusion policy, so you can opt out of playing our Lifesaving Lotteries and Raffle if you feel you may have a gambling problem.
You can opt out of playing for a minimum of six months to five years. We will not send you any marketing material during this time and your lottery account will be closed. We will refund any unused funds in your lottery account.
If you wish to make this change, you can download the PDF form here or contact Supporter Care on 020 3023 3319. You will be sent a confirmation of your decision to self-exclude that will outline the amount of time you have chosen to not take part.
At the end of your period, the self-exclusion will remain in place for a further seven years unless you tell us that you want to gamble again.
If you wish to start gambling again, you will need to request a Restart Gambling form from the Supporter Care team.
You will have a one day 'cooling off' period after we receive your Restart Gambling form in case you change your mind. You can choose to suspend your account again at any time.
You can find the full rules of London's Lifesaving Lottery here
London's Air Ambulance Charity aims to ensure that any issue regarding the Lottery that you may have is dealt with promptly, efficiently and in confidence.
If you wish to make a complaint about our Lottery then please contact Supporter Care in the first instance by one of the following methods:
Telephone: 020 3023 3319

In writing:

FAO Supporter Care

, LAA, 5th Floor, 77 Mansell Street, London, E1 8AN. Please note there may be a delay in response if you write to us as our office may be close due to COVID-19 restrictions.
Our Supporter Care team will acknowledge your complaint and fully investigate within ten working days. Your complaint will be fully investigated by our Supporter Care team and a response issued within this time. If you are still not happy with the response to the issue you will then be referred to the Gambling Commission's registered Responsible Person at our office address – Louise Robertshaw.
If the matter cannot be resolved internally by the society, it would then be referred to IBAS (Independent Betting and Adjudication Service) or the Gambling Commission for further advice.
Supporters can cancel their membership at any time by contacting the Supporter Care Team on 0203 023 3319.Once payments have been cancelled, the remaining Lottery balance shall be deemed as a donation to the London's Air Ambulance Charity. If we are notified that a member of Lifesaving Lottery is deceased, pending official notification via Next of Kin or solicitor's letter, any balance will be refunded. If no receipt is received after 90 days, the outstanding balance will be assumed as a donation to the charity.
We must be notified when a member of Lifesaving Lottery is deceased even if the payment is from a joint account. In a case where the deceased member wins the Lifesaving Lottery, we will need evidence of a death certificate and letter from Next of Kin before any winnings can be paid.
If a Lifesaving Lottery member requests a refund of a Direct Debit, this must be done through their bank or building society, in accordance with the Direct Debit Guarantee. Lifesaving Lottery members who pay via standing order or cheque should apply directly to London's Air Ambulance Charity for any repayments. This will be considered on a case by case basis.
In all cases of refund application, the charity reserves the right to check all supporting evidence and query the request.
London's Air Ambulance charity is such a worthwhile cause to sponsor and it was amazing to visit the helipad to see the air ambulance. The highlight of the visit was speaking to the Fire Officer on the helipad and learning more about what the charity does for London.
Gail
lottery